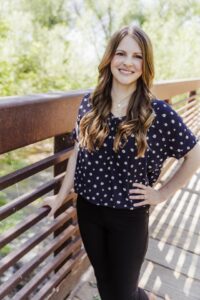 Shannon Fountain
Interior Designer
Shannon Fountain is a graduate of the CIDA accredited Interior Architecture and Design program at Colorado State University. Since graduating in 2009, she has gained valuable experience working for acclaimed companies in Construction, Interior Design, and Architecture fields. She prides herself on creating visually beautiful and creative spaces while paying special attention to flow and function. Shannon was thrilled to join the Bloom Studio team in January, 2018 where she is able to work directly alongside Heather and further grow in the Architecture and Design world.
Shannon is a proud Colorado native and when she's not working, she loves camping, snowboarding, hiking, and just being in the mountains. She also enjoys crafts, DIY projects, pottery, and spending time at her home in the foothills with her husband, little boy, two dogs, cat, and chickens.
---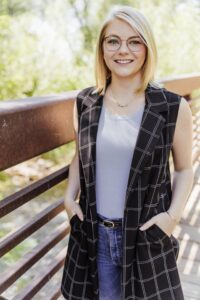 Jordan Benson
Interior Designer
Jordan Benson graduated from the University of Nebraska-Lincoln in 2017, with a Bachelor of Arts in Psychology with a minor in Business Administration. After rediscovering her passion for interior design, Jordan obtained her Associate Degree in Interior Design, graduating in 2020. Before joining Bloom Studio Jordan spent two and a half years working for a construction company, specializing in millwork. She prides herself on her ability to understand her clients' needs, allowing for personalized and thoughtful design solutions. Jordan excitedly joined our team in May 2023, where she will continue to grow in the architecture and design world.
When Jordan isn't working, she enjoys spending time with her family and friends. Her hobbies include spending time in the mountains, hiking, snowshoeing, and skiing, and spending time at the lake, wakeboarding, playing fetch with her dog, and sitting on the beach with a good book. She also wants to travel the world with her husband.
---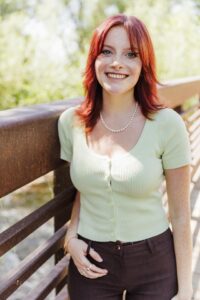 Meredith Hoffman
Interior Design Intern
Meredith Hoffman is a current student at Belmont University in Nashville, TN studying Interior Design. She came back to her Colorado roots and worked for Bloom Studio as an intern to further her knowledge in the world of Architecture and Design. Meredith is passionate about making spaces both functional and aesthetic – enhancing the environment and lifestyle of people who inhabit them!
Outside of work and school she loves anything creative including painting, drawing, and fashion. She also enjoys watching live music, reading, and spending time outdoors with friends and family.